JLL: Better ESG rating helps improving corporate valuations
Incorporating ESG factors becomes key consideration for optimising investment strategy
HONG KONG, 18 January 2022 – According to JLL's latest research, "Unlocking ESG Opportunities: Explore How ESG Impacts Business Value", investors are proactively incorporating Environmental, Social and Governance (ESG) factors into their investment analysis, while establishing a systematic approach to integrate ESG factors into fair value calculation is of paramount importance for optimising investment strategy.
JLL believes that incorporating ESG factors into analysis can help investors gain a more holistic view of companies' material risks and expected growth, and companies with higher ESG credentials are usually associated with comparative advantages like less susceptible to systematic risks, greater future free cash flow, premium in price multiples and lower discount rate. On the contrary, companies with lower ESG credentials are subject to a higher risk, given that the company might perform less efficiently in resource management or talent retention than its peers. Like credit risks, the ESG risk severity could also impact a company's enterprise value and hence the spread yield and expected returns.

In this whitepaper, JLL analysed the ESG performance of 60 Hong Kong-listed property developers, the results reveal a positive relationship between the ESG disclosure score and companies' P/B ratios. It is worth pointing out that investors are more willing to pay a price premium for companies with high ESG scores. Within the real estate developer sector, when the ESG disclosure score increases by 20 units, higher valuation will be achieved with P/B ratios rising approximately 0.13 accordingly, assuming other factors are constant.
Chart 1: Relationship between ESG disclosure scores & price-to-book ratios of Hong Kong-listed property developers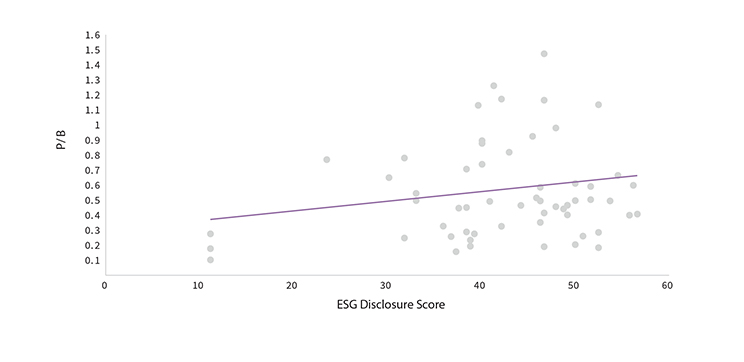 ESG factor: the integral part of the asset management framework
The ESG reporting and investing landscape are evolving rapidly, with both social pressures and regulatory requirements fuelling the integration of ESG matters into the valuation framework. An empirical study highlighted that there was a significant alpha return for companies with above-average performance on material ESG factors, supporting the inclination for investors to pay a price premium. As a result, to account for the ESG consideration, a premium should be applied to the target multiple in valuing companies with high ESG scores.

Sylvia Lau, Head of Valuations, JLL Greater China, says, "ESG is not actually a new concept, but the general view has been that ESG is passively accepted by companies. We instead think that ESG is the way to achieve a win-win situation for both shareholders and stakeholders. Taking environmental, social and governance factors into consideration will become a core principle in the capital allocation decisions for both investors and companies."

Upgrading the traditional valuation model: and optimize the investment strategy by adjusting the enterprise valuation method
By incorporating ESG factors into the valuation process, a more integrative view could be provided to investors. However, in the traditional valuation model, ESG factors are not under consideration. Without a universal guideline or standard, the prevailing practice is to include ESG in the market and income approaches.

Kevin Chan, Senior Director of Valuations, JLL, explains, "Companies need to adjust their traditional valuation model to one that sees ESG factors as pre-financial information while emphasising the environmental and social value creation or degradation. We suggest industry leaders should make concerted efforts together with the regulators in expediting the progress to develop a more comprehensive and internationalised valuation model."

---
JLL (NYSE: JLL) is a leading professional services firm that specializes in real estate and investment management. JLL shapes the future of real estate for a better world by using the most advanced technology to create rewarding opportunities, amazing spaces and sustainable real estate solutions for our clients, our people and our communities. JLL is a Fortune 500 company with annual revenue of $16.6 billion in 2020, operations in over 80 countries and a global workforce of more than 95,000 as of September 30, 2021. JLL is the brand name, and a registered trademark, of Jones Lang LaSalle Incorporated. For further information, visit jll.com.